Starting in 1995 Ensemble Villancico has toured more than thirty countries with its Early World Music repertoire - foremost Latin American baroque music and early music with links to the Nordic region. With joyful intensity and first class musical qualities the group has gained a reputation world-wide as a leading interpreter in its genre.
Apr 7 2015
20 years with Ensemble Villancico - article in Swedish Magazine Tidig Musik (Early Music)
Article in Swedish Magazine Tidig Musik (Early Music) about Ensemble Villancico's 20th anniversary.
Read the article here (in Swedish).
Apr 3 2015
Joy, multiculturalism, and entertainment. Read the anniversary review in Dagens Nyheter!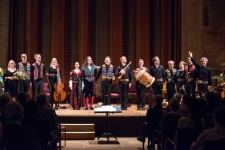 This is what Nicholas Ringskog Ferrada-Noli writes about Ensemble Villancico's anniversary concert at Concert hall in Stockholm March 30 (DN, 01/04/2015):
"Ensemble Villancico stand for high-spirited joy, passionate multiculturalism and hilarious entertainment."
Jan 27 2015
Press voices from the concert in Malta 13/1!
Nov 5 2014
A touching recording!
Read the Swedish magasin´s OPUS five stars review about Ensemble Villancico´s newest CD "¡Tambalagumbá!"!
Apr 14 2014
Ensemble Villancico goes Nordic: Iceland, Finland and Sweden
Apr 14 2014
Read the newest reviews about the CD "Early World Music" from the University of Indiana and on musicweb-international!
Apr 14 2014
Ensemble Villancico plays at Stockholm Central Station 21/3
Mar 20 2014
European Day of Early Music at Stockholm C!
Come and visit Ensemble Villancico's stall 21 March from 10 to 18. You can buy our new CD and get information on the ensemble's upcoming activities, among other things the plans for our 20th anniversary 2015!!!
At 17 and 17.30 members of the ensemble appears on stage to present samples from the Latin American repertoire.
Pages