¡Fiesta Barroca Latina! (2023)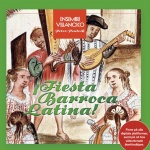 Against the background of the infinitely rich heritage of music and dance brought to us by Baroque Latin America, this album introduces the listener to the festive atmosphere that 17th­ and 18th­century Latin Americans – descendants of indigenous peoples as well as of Africans and Euro­ peans – could experience every so often as part of their everyday religious lives. 
Published by CAPRICE Records.